This is a guest blog by Marcus Beck that describes how the Tampa Bay Estuary Program (TBEP) is embracing open science principles and tools to create better science in less time. Marcus, along with TBEP Executive Director Ed Sherwood, both attended the NCEAS Open Science for Synthesis workshop in July 2017 at Santa Barbara. Marcus, Ed, and the rest of the TBEP team are working to bring open science to improve the management of Tampa Bay and extend their applications to the broader network of the 28 National Estuary Programs. This blog describes one application of automating a routine reporting document that builds on the data and tools developed throughout the 30 year history of TBEP.
Update July 13 2021: Check out TBEP's Data Management SOP( Standard Operating Procedures)!
---
Those of us working in coastal environments are likely familiar with the success story of Tampa Bay. Like many surface waters in the US prior to the Clean Water Act, Tampa Bay was impacted by nutrient pollution from untreated wastewater and surface runoff. Through a coordinated regional effort of environmental professionals, utility operators, and local politicians, nutrient loads to the Bay have been reduced by ~2/3 from 1970s levels and seagrasses have recovered to a 1950s benchmark extent.
The Tampa Bay Estuary Program (TBEP) has been a key facilitator among the many local partners that have an interest in the region's natural resources. TBEP is one of 28 estuaries in the EPA's National Estuary Program that focuses on "estuaries of national significance" to provide place-based solutions to managing these complex systems. This includes establishing benchmarks for restoration goals and tracking the status and trends of key indicators of environmental health.
TBEP uses a water quality report card that summarizes annual progress in achieving core programmatic goals for the Tampa Bay estuary. This product communicates to partners what needs to be done to ensure water quality targets are met to support seagrass growth. However, a new report is needed each year that requires considerable effort to manually compile the data, synthesize the results, and produce the final document.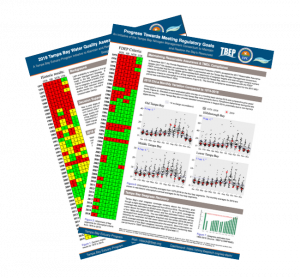 The Tampa Bay water quality report card
This blog describes an open science approach developed by TBEP to automate creation of the annual water quality report. The methods leverage many open source tools that are freely available and easily modified for customizable report generation. A broad overview of the approach is provided to encourage others to consider how these open science workflows can lead to better, kinder science in less time.